Explore The Features Of Metal Drinking Bottles To Buy The Best One For You
Aug 05, 2023 08:00
Choosing the best drinking water bottle is important for maintaining your health. Conventional plastic bottles are not a safe choice because they pollute the environment and contain dangerous chemicals. On the other hand, glass drinking bottles are too heavy for consumers. So, metal water bottles have become the right alternative. Whether you want to carry drinking water during your trip or store filtered water, you can use high-quality metal bottles. Learn about the features of these bottles before making a purchase.
Table of content
Common features of metal drinking bottles
Features of bottles according to the metal types
Common features of metal drinking bottles
Metal water bottles come with some amazing features
Toxin-free
Some consumers believe that it is safe to drink water from BPA-free plastic bottles. However, the truth is that even these BPA-free containers have other toxins to contaminate water. But, you will not find this issue with your stainless steel bottles or other metal bottles.
Never retain your drink's flavors
Perhaps, you buy bottles to drink plain drinking water. But, you often use the same bottles to store hot beverages and cold fruit juices. If you have poured your fruit juice into the bottle, it will not affect the taste of your beverage in the future.
Easy to personalize
Earlier, there were no color options for metal water bottles. Consumers used to choose only metallic-colored bottles. But, today, these metal drinking bottles are available in a range of vibrant colors that match your preference.
Besides, you can personalize them by printing your brand details. That is why many brands choose these bottles for their promotional campaigns. These bottles are also found in various sizes ranging from 300ml to 500ml.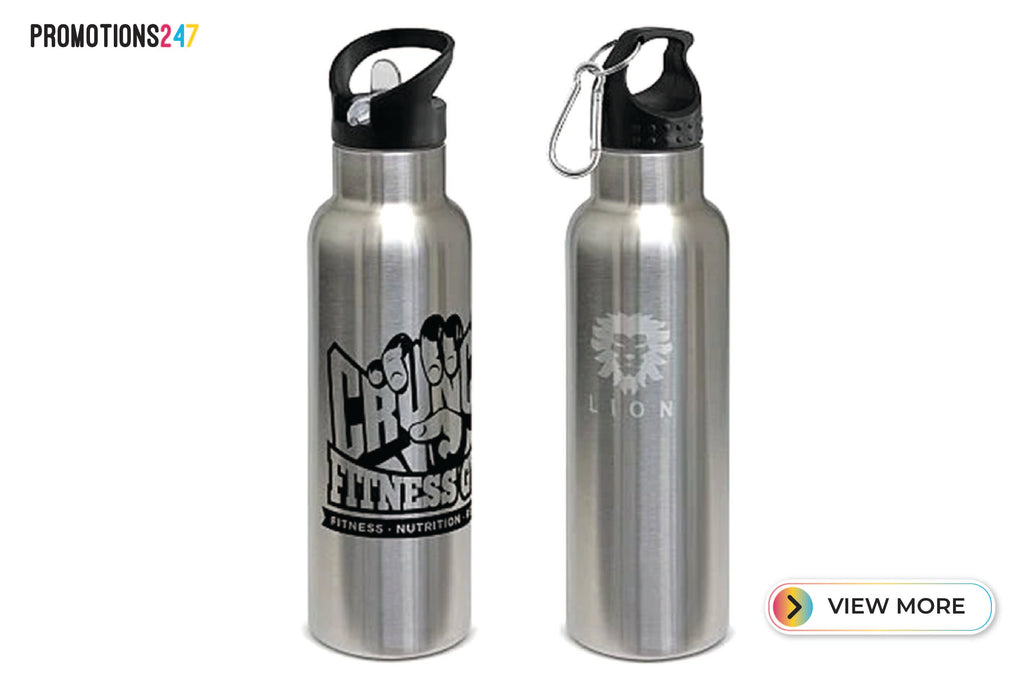 Ensure privacy
If you do not want others to see what you are drinking, metal bottles can be the right choice. On the other hand, transparent glass bottles do not provide privacy.
Puncture-proof
Plastic is a brittle material that has a risk of cracks. If you want a long-lasting solution, you can buy metal bottles. Almost any type of metal is durable and endures high impacts. Even if there are dents, you can continue using the bottle.
Insulated design
Modern water bottles made from metals have an innovative design. You can store cold water and enjoy chilled drinks on a summer day. The vacuum-insulated bottles are engineered in a way to maintain the desired temperature of your water.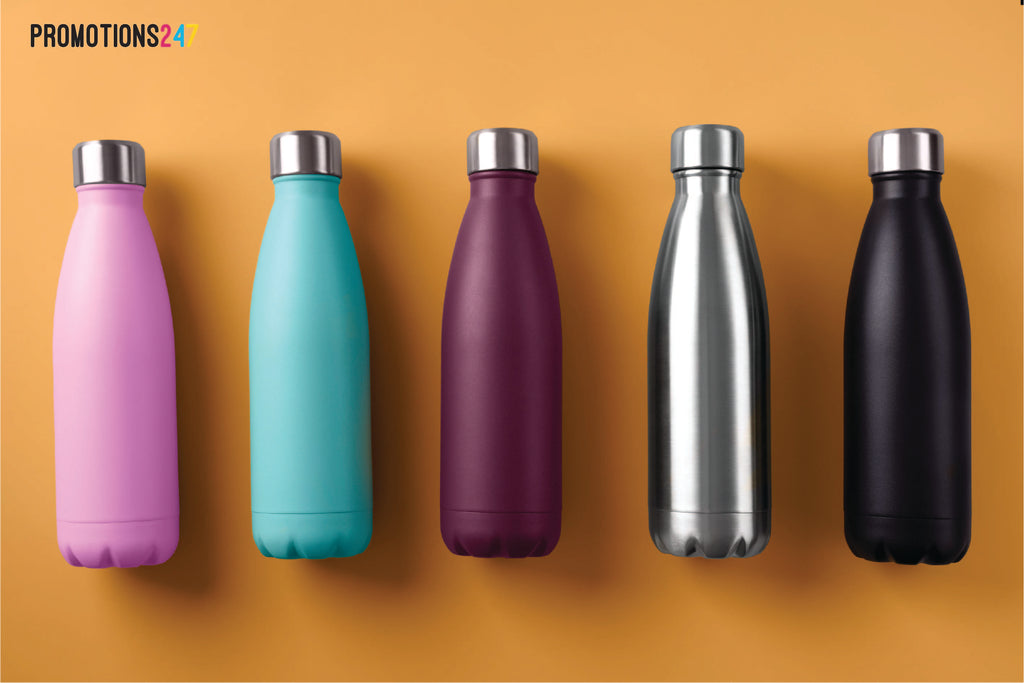 Features of bottles according to the metal types
Water bottles are manufactured with various types of metals that have unique characteristics.
Aluminum: Aluminum bottles have a lightweight design. However, as aluminum has acid-reactive properties, the bottles need a plastic liner to ensure safety.
Stainless steel: As stainless steel is non-toxic, the metal bottle does not need a liner. Stainless steel bottles never contaminate your drinks with harmful compounds. They are dishwasher-friendly, and you can easily sterilize them to prevent bacterial growth.
Copper: Since copper has oligodynamic characteristics, it is one of the best materials for drinking water bottles. If you store your water in copper bottles, the ultrafine properties of the metal seep into the water in due course. It allows water to gain beneficial qualities.
Where to buy promotional metal drink bottles?
Drink bottles are one of the best promotional gifts for corporate events because of their higher usability and exposure to audience. At Promotions247, you can find a wide variety of such bottles that are perfect to be customized with your business or brand logo for any corporate event. Be it a family day event, an employee day, or fun activities, you can distribute these bottles among your staff and people. Check out our wide selection of bottles in different sizes and pick the one that fits your requirement and budget. Our in-house designing team will also help you with personalization of the bottles that you can preview before placing any bulk order.
We offer wholesale rates on bulk order with free doorstep delivery across Australia. Select your product now!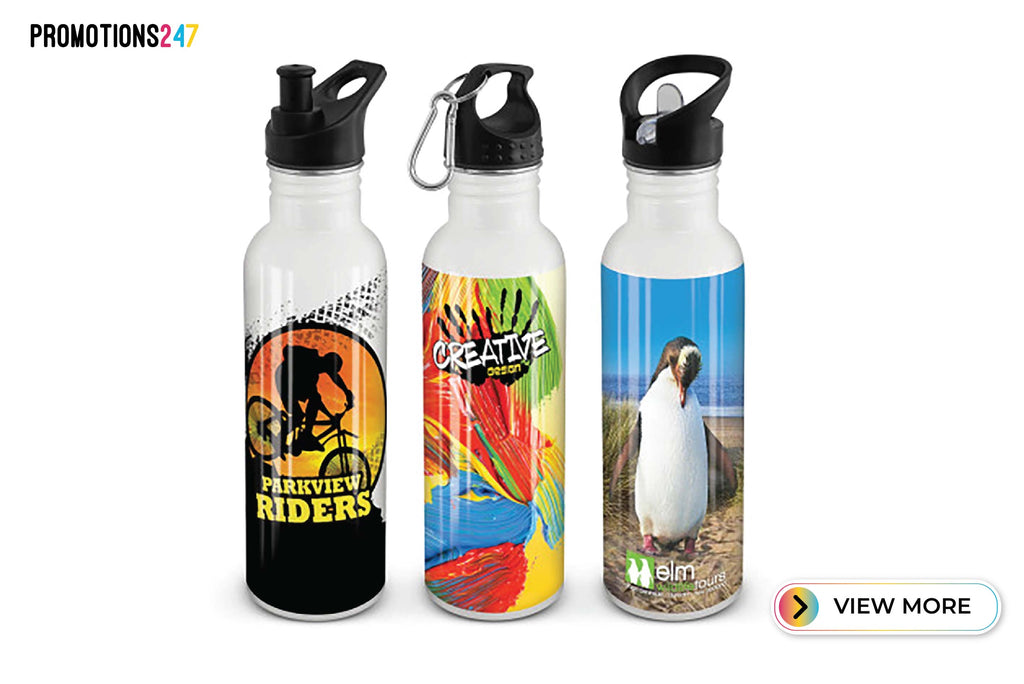 Conclusion
Metal drink bottles have become a popular choice for consumers. They are eco-friendly and safe for health. The best bottles have a sleek design, and you can customize them by printing your company logo and other details.